For first time customers of laser hair removal, the prospect of undergoing the procedure may be quite daunting. Right now, you're most likely weighing up the benefits and setbacks of laser hair removal treatment compared to other hair removal techniques such as waxing and electrolysis. Whilst it's certainly the highest tech of your hair removal options, laser treatment has many benefits that could help you boost your confidence with little hassle.
But before we get into the benefits of laser hair removal, let's recap on what the procedure actually entails.
Laser hair removal is the process of removing unwanted hair from the body and face using concentrated beams of light. These beams of light are strong enough to destroy the hair follicles in the skin, targeting the melanin in the cells which absorbs the light, changing it into heat energy. It is this heat that kills the hair follicle cells, many of which don't grow again for up to 6 months, and sometimes don't at all.
Quick, Long Lasting Results
The results of laser hair removal are far longer lasting than that of other hair removal techniques. Whilst waxing might keep your hair at bay for 3 to 6 weeks and shaving for only 7 days, laser hair removal could see no hair grow back at all, at least for half a year or so.
Laser Hair Removal Is Designed For Precision
As opposed to a blanket sweep of hair removal, laser hair removal can be used to get rid of specific unwanted hairs all over the body. Whether it's a single hair follicle or just a patch, the precision of the laser treatment means that each targeted hair on your body gets the time and the treatment it needs.
Smoother Skin
This should go without saying, but hair removal means smoother skin. There's more to it than just getting rid of the hair though, laser treatment can soften the outer layers of your skin, which make it slightly more sensitive for a few days but will come out softer and more luxurious by the end of your treatment course.
Short Lasting Side Effects
Those aforementioned days of sensitive skin don't last forever. You'll want to protect the treated areas from the sun for a few days and avoid water that is too hot, but after no more than a two or three days, the new you will begin shining through.
Less Body Odour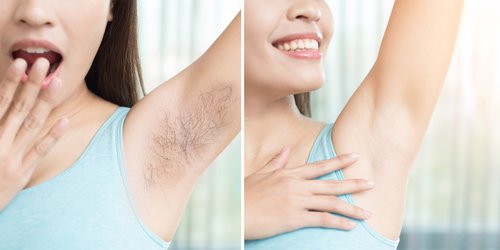 Less hair means less space for sweat to get trapped in. Armpit odour is one of the most common forms of body odour, and this can be exacerbated by underarm hair and it's follicles trapping sweat and bacteria as it forms. Whilst a good deodorant will spruce up the joint, laser hair removal can decrease your body odour over time, cutting off the odour from the follicle clinging source.
Non-Invasive
Whilst infected hair follicles can be removed through surgery, our skin clinic Manchester does not use invasive treatments. Laser hair removal focuses completely on the surface of your skin and is relatively pain-free. Whilst there may be a slightly hot sensation on the affected skin during your treatments, and sensitivity will cease after a few days. Unlike waxing and shaving, the danger to the skin and the need for a certain pain threshold are greatly diminished through the great value and long-lasting laser treatment.
Bonus - Why Laser Mole Removal Works